Volunteers sought for Ore church archaeological dig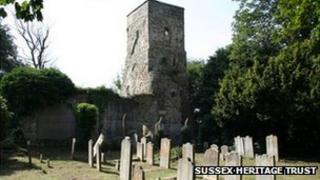 A team of local volunteers is being put together to take part later this year in an archaeological dig at the ruins of an old church in East Sussex.
The project to explore the site of the Old St Helen's Church, in Ore, is being organised by the Sussex Heritage Trust and is open to anyone aged over 18.
The church is thought to be the oldest surviving building in the Hastings area and dates back to the 1066 period.
Archaeologist Chris Butler said "on-the-job training" would be provided.
"People can come along and take part in the excavation, and if they don't want to they can help wash and clean the finds that we've got."
Burial site
Mr Butler added that they were hoping to find evidence of the early origins of the church.
"We're hoping to find old walls, perhaps even some burials, and evidence of the earliest church on the site."
The church is currently on the English Heritage "at risk" register and in need of urgent conservation.
The community archaeological dig will take place during April, before the main conservation works to the ruins and the tower begins in May.