Sussex Police: Appeal over Chichester's jeweller's raid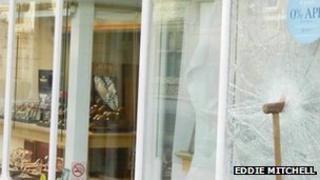 Three men have carried out a smash-and-grab raid at a jeweller's shop in West Sussex.
Sussex Police said the men smashed a window at a branch of Ernest Jones in Chichester in the early hours, loaded jewellery into a holdall and ran off.
It is not yet known how much jewellery was stolen, officers said.
Det Insp Jim McKnight urged anyone who saw the men acting suspiciously near the shop in East Street, or running off into St Martins, to contact police.
He said police also wanted to hear from anyone who was offered jewellery for sale.