Eastbourne and Hastings hospital patients 'put at risk'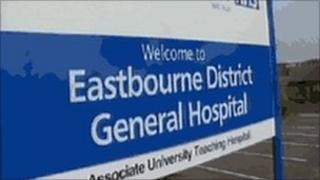 A Sussex NHS trust has been warned that a number of failings are "putting patients at risk".
The Care Quality Commission (CQC) said the East Sussex Healthcare NHS Trust had made some improvements since its last report, but concerns remained.
The CQC report said improvements must be made to the way the trust monitors and assesses standards of treatment.
The trust, which runs Eastbourne District General and Hastings' Conquest hospitals, said it was taking action.
In a statement the CQC said: "The warning follows a series of inspections at the trust, in February, April and September 2011, which have highlighted a number of failings which are putting patients at risk of harm."
The report raised concerns about patients with reduced mental capacity, and whether best interest meetings had taken place regarding "do not attempt resuscitation" decisions, taken on their behalf.
'Not robust enough'
It found there were issues with the recruitment of some grades of doctors and consultants, with a reliance on locum staff.
Reporting arrangements to the board "were not robust enough to provide full reassurance that patients were being protected" and care plans were incomplete in some areas, the report said.
The commission said the trust had until 31 March to comply with the regulations relating to the assessment and monitoring of the quality of the service it provides.
Darren Grayson, from the trust, said: "We are committed to improving the quality of care and outcomes for patients and aim to get every aspect of care right for all our patients all of the time.
"These reports demonstrate the improvements we had made five months ago.
"We have made considerable progress since then and we continue to make improvements across the trust to address all the areas the CQC has highlighted for improvement."
Ian Biggs, from the CQC, said: "CQC has a range of legal powers it can use to protect the people who use services run by the trust if it finds required progress has not been made.
"This warning sends a clear message that East Sussex Healthcare NHS Trust needs to address these issues or face serious consequences."