Worthing beach mercury spillage alert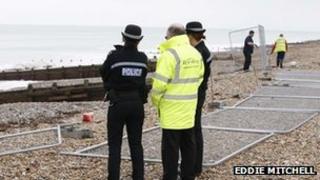 An area of Worthing beach has been cordoned off after small amounts of mercury were found on the shoreline.
Worthing Borough Council said a member of the public found the substance while they were out metal-detecting, on Friday night.
Council staff confirmed that the substance found was mercury.
Signs are in place warning people to keep away from the area. Police, fire and coastguard teams were called to the beach while the mercury was dealt with.
'Specialists called in'
A statement issued by Worthing council said: "Last night, a member of the public whilst metal-detecting on Worthing beach found a very small quantity of what they thought to be mercury on some pebbles.
"Worthing council confirmed late that evening that the substance was mercury."
The local authority said the area would be patrolled by the beach team until Monday, when specialists would be brought in to remove the mercury.
A Sussex Police spokesman said officers were there in a support role.
Solent Coastguard and fire teams also said they were called to the scene for safety reasons while the local authority dealt with the incident.
The council said its beach team, emergency planning team and environmental health team were all involved.