Brighton teenage pregnancy rates fall by over a quarter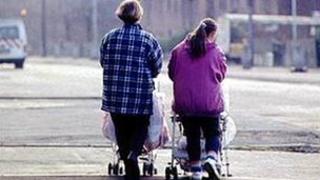 Teenage pregnancy rates have fallen by more than a quarter in Brighton and Hove, according to the city council.
The reduction of 26.5% since 1998 has been attributed to an overhaul of services to prevent unplanned pregnancy and improve sexual health.
More than 200 teenagers each year considered to be at risk of unplanned pregnancy are given one to one support.
Brighton & Hove City Council said: "We have improved our services and this is showing signs of success."
Councillor Sue Shanks said: "Key factors have been opening up contraception and sexual health services more and focused early intervention work.
"Not only are we identifying those at risk earlier, but we are educating young people about the role that alcohol can play, the need to use contraception properly and to get good advice about sex."
Sam Beal, a health and wellbeing adviser for the council who works with primary and secondary schools in Brighton and Hove, said: "It's about helping young people to negotiate the relationships that they want.
"I think adults in schools and in youth services are giving really clear messages to young people about the benefits of delaying first sex, but also if they are going to have sex to have it within positive, healthy relationships and to use contraception."