Concern over Seagulls' new training academy in Lancing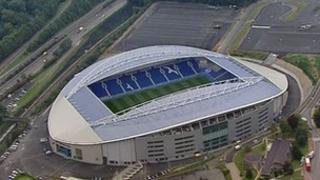 A football club's plans to build a new training academy with 12 pitches close to Shoreham Airport in Sussex has sparked concern among local residents.
Brighton and Hove Albion's planning proposal for the site off Mash Barn Lane in Lancing has received backing from the local parish council.
The Seagulls currently train on pitches shared with the University of Sussex.
The club has said the site will help it develop and bring jobs to the area, but opponents fear more traffic and noise.
The planned new training ground will be on land owned by Adur District Council and will have professional training facilities and a new youth development academy, with accommodation for players and young people attending residential courses.
Light pollution
Albion chief executive Martin Perry said there was no suitable site big enough in Brighton and its location close to the A27 meant it would be within easy reach of the Amex Stadium at Falmer, in East Sussex.
"We need state-of-the-art training facilities... if we are to produce the kind of players we are going to need to challenge for the Premier League,
"Unfortunately at Sussex University there's simply not enough space and [it's] not good enough to meet those requirements," he said.
However, some local residents claim road congestion, noise and light pollution from the floodlights will make it unbearable.
They also say that "heavy duty" construction traffic will cause a lot of disruption in the area.
'Some reservations'
Others though are in favour, saying it would be good for the regeneration of Lancing, and bring more employment and opportunities.
Mr Perry said there would be two pitches with floodlights, one of which would be used very rarely.
"But the main astro-turf is the furthest pitch away from any of the residential areas, and is screened by the academy building itself," he said, adding that it had been designed that way "quite deliberately".
The planning application was approved by Lancing Parish Council at a meeting on Thursday night.
However, chairman Anne Bridges said it had some reservations, in particular with regard to the access road in Mash Barn Lane, which would be passed to Adur council.