Men fight off woman's sex attackers in Brighton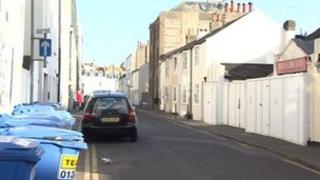 Four men who rushed to help a 35-year-old woman who was sexually assaulted and robbed in Brighton saved her from a worse attack, police have said.
The woman was thrown to the ground by two men as she walked along Stone Street just before 04:00 BST.
One of the men sexually assaulted her and the other robbed her of cash and her American passport, while another woman with the men stood by.
Detectives said the four passersby fought off the attackers.
"This was a nasty attack," said Det Insp Mike Ockwell.
"Fortunately the attack was seen by four men who bravely fought off the men.
"I have no doubt that their courageous actions helped protect her and possibly prevented her from being more seriously assaulted."
Mr Ockwell appealed for the men to come forward.
"You are being treated as a witness and what you have to say will be valuable in our investigation."