Hastings giant winkle statue in position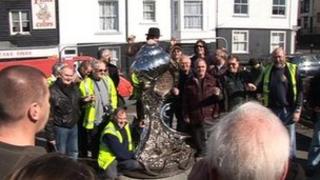 A 6ft (1.8m) tall winkle sculpture has been winched into position by an East Sussex charity.
The Winkle Club in Hastings was formed in 1900 to help under-privileged families in the area.
The new stainless steel sculpture replaces a concrete winkle which had been vandalised.
It will also help raise money for the charity as coins can be dropped into the winkle to ring a bell.
Sculptor Leigh Dyer said the work had taken over a year to complete.
"The obvious thing was the winkle shell. All around the base are bits of equipment they [fishermen] would use. We've got net needles, and floats and rope.
"All the fish are local fish which they catch here. We've got halibut, and a plaice and a starfish."
The winkle is made of high-grade stainless steel and has been designed to remain shiny.
The base has been designed so that it will become rusty to provide a link to the rusted metal fishermen's equipment on Hastings beach.