Rail links 'critical' for Gatwick Airport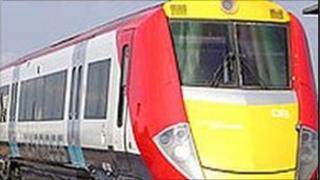 Gatwick Airport needs better rail links if it is to compete with Heathrow, a new report says.
The report by Arup, the firm designing the HS2 terminal at Euston station, said rail links were "critical" in attracting new airlines.
Guy Stephenson from Gatwick Airport said rail links to the centre of London were faster and more convenient than from any other London airport.
But he admitted that passengers' impressions lagged behind Heathrow.
"The capabilities of the trains on the Gatwick Express rank below equivalents at Heathrow, Hong Kong, Kuala Lumpur and Stockholm airports," said Mr Stephenson, the airport's chief commercial officer.
Lost rail links
The Arup report said that if Gatwick Airport was to attract new airlines, it must also offer more direct rail routes.
"In recent years, Gatwick has lost direct rail links to Oxford, Birmingham, Manchester, Watford and Kent.
"Most importantly, the Gatwick Express needs to be improved; airlines rely on its service for good access to London for their passengers."
The report said the Gatwick Express need higher quality rolling stock.
Comparing Gatwick with 36 other airports around the world with city centre rail links, the report said, airport services typically had trains designed for passengers with luggage - step free access, wide aisles and visible baggage racks.
It said many peak services starting in Brighton were already crowded when they reached Gatwick Airport.
Mr Stephenson said: "We have the capacity to handle more flights and strengthen our country's trade links with emerging markets.
"But if Gatwick is to continue attracting the new routes the economy needs, its rail links must improve in quality and extent."