Nathan Vaughan-Jones jailed for fatal stabbing of Nigel Ross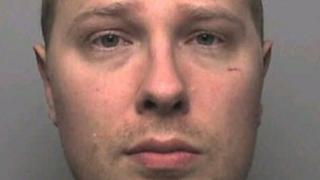 A man who killed his stepfather by stabbing him 41 times when a long-running family feud boiled over has been jailed for 11 years.
Nathan Vaughan-Jones, 34, attacked 63-year-old Nigel Ross in the garden of his sister's home in South Chailey, East Sussex, in March last year.
He admitted manslaughter on the grounds of diminished responsibility at Maidstone Crown Court in January.
The judge accepted that Vaughan-Jones's actions were not premeditated.
During the trial, the court heard Vaughan-Jones suffered from bouts of depression and had a fraught relationship with Mr Ross, who was described as "controlling".
Days before the stabbing, Vaughan-Jones had returned to Britain from Bermuda, where he lived with his wife.
His return coincided with concerns he had heard about Mr Ross's behaviour towards other relatives, the court heard.
Passing sentence, Judge Michael Lawson QC said: "Families are either the best and secure of places or they place strains that are unacceptable."
Defence counsel Michael Wolkind QC said Vaughan-Jones was a "truly exceptional" man who had expressed "deep remorse and sadness" for the killing.
Helen Ellwood, of the Crown Prosecution Service, said two psychiatrists had accepted Vaughan-Jones was suffering from diminished responsibility.