Primary school in Sussex wins national climate award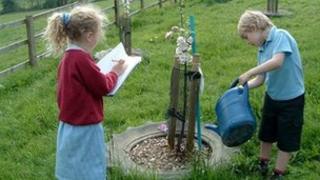 A primary school in Sussex which grows its own vegetables, rears chickens and uses rainwater to flush toilets has won a national award.
Turners Hill C of E Primary, near Crawley, has been given a Climate Week Award.
The school also composts, has a wormery, solar panels and micro-wind turbines.
Head teacher Ollie Burcombe said the school is hoping to halve its electricity and heating bills.
He said: "We've been doing environmental work for many years now and it's a fantastic opportunity for the children to promote sustainability.
"All the rain water that hits the school's roof gets flushed down the toilet.
"We've been looking after chickens for the last eight years, the children see the process right from the beginning, the incubation stage right through to the rearing and they look after them on a daily basis."
The school won the best educational initiative award.