Train cancellation halts Hastings half marathon runners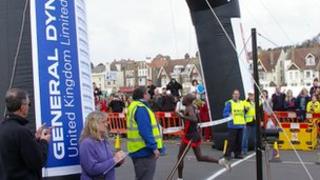 Organisers of a south coast half marathon have called for an inquiry after 200 runners were stranded in London when trains were disrupted.
Trains due to get runners to Sunday's event in Hastings from Charing Cross were cancelled and entrants diverted to London Bridge missed connections.
"How could they do this to people?" said race director Eric Hardwick.
Southeastern said the problem was due to emergency engineering work between Charing Cross and London Bridge.
More than 3,500 people ran the 28th half marathon to be held in the East Sussex town.
"It was one of the best days we have ever had," said Mr Hardwick.
"The only thing that tarnished it was the people who couldn't make it on the day.
"I am cross but not as cross as the runners. These are the people that Southeastern Railway have really got to answer to.
"There needs to be quite an inquiry about it."
'Plan in advance'
Mr Hardwick said organisers of the half marathon had worked with train operators over many years to make sure runners were able to get to Hastings in time for the race.
"Normally we plan that engineering works do not take place over two years in advance so this problem does not occur," he said.
Southeastern said the emergency engineering work was carried out by Network Rail.
"We're sorry that ... some runners didn't make it to the Hastings half marathon. We realise it must have been very disappointing for them," it said.
"Every year we add extra carriages to our trains to accommodate the runners.
"Network Rail worked as quickly as possible to repair the tracks but it wasn't until 10am that they gave us the all clear to operate a train service.
"Anyone whose journey was delayed by more than half an hour can claim delay repay compensation."