Torchlit walk in Brighton to celebrate Earth Hour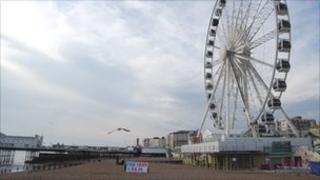 A torchlit walk will be held along Brighton and Hove seafront to mark Earth Hour.
The walk from the seafront bandstand to Brighton Pier and back will begin at 20:30 BST.
It will be part of an international event to encourage people to turn off their lights for an hour to raise awareness of climate change and saving energy.
The walk is being organised by Brighton and Hove's Green-run city council.
Leader Bill Randall said: "The Brighton Wheel will also be taking part in Earth Hour and businesses, organisations and individuals can all get involved."