Brighton and Hove firm's literacy class changed bin man's life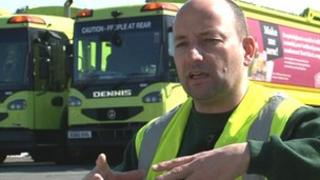 A bin man from Sussex has said literacy classes provided by his company have changed his life.
Weslee Emond, 47, has been taking classes after working for Brighton & Hove City Council's City Clean since he was 18.
For up to 10 years the firm has offered staff lessons in reading and writing, saying it is good for business.
"I started with literacy and went on to computers and it's changed my life," Mr Edmond said.
"I like reading about politics now and doing all sorts of things with computers.
"The classes changes your perception of yourself from the inside out."
'Fantastic difference'
Brighton & Hove City Council said that, despite the cost, offering the classes improves business.
Gillian Marston, of the council, said: "It makes a fantastic difference to our service.
"People who work for us tended to lack confidence, were sometimes a bit aggressive and they couldn't fill in basic health and safety forms, annual leave forms.
"They now have got that confidence, they are less aggressive they can do some of the basic stuff."
She said that although there is a cost to the company for releasing staff, there's been a lot of benefits and customer satisfaction with services has increased.
"The confidence helps in terms of talking to our residents, the confidence helps in that they sit down with us and look at ways of how we can explore and improve the service," said Ms Marston.
"So it's not just about their literacy and numeracy needs, it's also about what they are now offering us as well."
Earning less
Recent government research by the Department of Business Innovation and Skills (BIS) suggest that just over five million people in the UK lack functional literacy, the level needed to get by in life and at work.
A NIACE survey for Unison showed workers with literacy problems tend to earn 11% less than their colleagues and 16% avoid going for promotions.
Summer Hunter, also a City Clean employee, has also taken courses in literacy and computer skills.
"I hadn't even heard of adult learning, I thought you learn at school, you learn at college, you get to adulthood and it all stops," she said.
"I'm much more confident - it gave me a little more understanding of myself, of what I've achieved and what I would never have achieved if this place hadn't been here."