Hastings stabbed teenager Jacob Woudstra 'best son ever'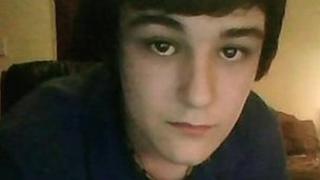 The father of a teenage boy who was stabbed to death outside a Hastings pub has said he was the best son he could have wished for.
Jacob Woudstra, 17, died last Thursday, after being stabbed once in the chest.
His father Stephen Woudstra told BBC South East his son was a smiling young man who was loved by his family and everyone he met.
Two Sussex men are facing charges, one accused of murder and the other of perverting the course of justice.
Mr Woudstra said: "You've only got to look at his photos and if you look at those photos there's one overriding thing that you see there.
"In every photo he's smiling, he's just happy.
"He was loved by me and his mum and his brothers and everyone he came into contact with. He's just a smiling young man."
'Overwhelming support'
He said: "It's been a whirlwind. I can't believe it's a week already.
"There's been so much to do and so many people supporting me and my family and just a phenomenal amount of support really, people just coming out of the woodwork, everyone close to me and close to my family - overwhelming support."
The sixth form student who was studying for his A-levels was attacked outside the Shah pub in Hastings.
A post-mortem examination showed he died from a single stab wound to the chest.
Adam Skilton, 42, of Wilton Road, Bexhill, has been charged with murder.
Another man, Wesley Long, 34, of High Street, Hastings, has been charged with perverting the course of justice.
Two other men were arrested after the attack and were released on bail pending further inquiries.