Eastbourne's ancestors to give up their secrets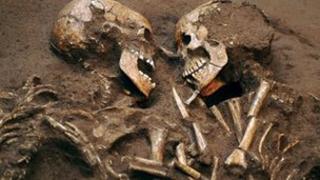 Detailed scientific analysis of more than 300 skeletons of people who lived in the south of England thousands of years ago is to be undertaken.
Eastbourne Borough Council's museum service has been awarded a grant of £72,000 by the Heritage Lottery Fund for the Eastbourne Ancestors project.
The aim is to discover the gender, age and size of each individual skeleton in the museum service's collection.
Details about their health, diet and social status could also be revealed.
Most of the skeletons are Anglo-Saxon, from about 1,500 years ago, but some are possibly Neolithic and more than 4,000 years old.
'Relate to the past'
It is hoped the project will also reveal regional or national origins and how they died.
"We will learn so much about the people who lived in and around Eastbourne in the past," said museum officer Jo Seamon.
"It helps us relate to the past in a different way.
"An object such as a pot shard can tell us about a culture but not an individual person."
About 150 volunteers will be recruited to work on the project, which will be carried out in partnership with universities in Bournemouth, Kent and Durham.
A temporary lab will be set up at Eastbourne Town Hall.
The project will end with an exhibition which will include facial reconstructions of some of the skeletons.