Fault leaves Princess Royal Hospital without water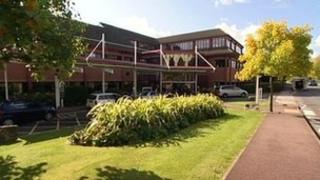 Accident and emergency patients were diverted to nearby hospitals and elective surgery cancelled after water taps at a West Sussex hospital ran dry.
South East Water sent an emergency tanker to refill a tank at the hospital in Haywards Heath at about midday.
Staff gave out bottled water to patients and alcohol gel was used to clean hands during the alert.
The hospital was later connected to an overland supply, which will remain in place until the fault is corrected.
Operations due to take place during the afternoon went ahead.
'Refill the tank'
South East Water distribution manager Simon Robertson said: "With the tank refilled, the hospital is now able to use water as normal.
"The hospital now has 24 hours worth of water.
"If the cause of the loss of water is not found and fixed within the next 24 hours, we can continue to refill the tank and keep the water supplied.
"Our investigations have shown our own pumps to be working normally and our team of leak detectors haven't found anything that would suggest that the water is leaking into the ground.
"We are very hopeful that the cause of the problem will be discovered today and fixed soon after."