Brighton church thieves steal 19th Century silverware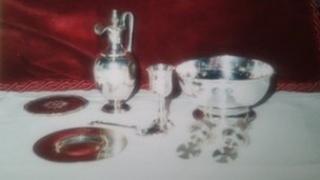 Religious silverware worth more than £10,000 and dating back to the 1830s has been stolen from a Brighton church.
Thieves used crowbars to break into St George's Church sometime between 21:00 on Monday and 08:00 BST on Tuesday.
The stolen items, described as irreplaceable by police, include chalices, alms dishes and flagons.
Police said 17 items had been stolen from a glass cabinet, causing "a great deal of distress" to members of the church.
Det Con Gemma Holley said the items were irreplaceable while Father Brian Twohig has appealed to anyone with knowledge of the theft to contact police.