Bexhill church's used baptism water reclaimed for plants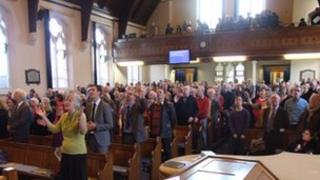 A church in Sussex has been conserving water during the hosepipe ban by transporting its used baptism water to the local park to water the plants.
After an adult baptism at Beulah Baptist Church in Bexhill, the water would usually be thrown away and changed for hygiene reasons.
Michael Ensor, a member of the church, has arranged for the water to be collected and taken to Egerton Park.
The baptistry bath holds about 2,000 litres (440 gallons of water).
During the baptism ceremony, the minister and assistant enter the bath with the person being baptised, who is then totally immersed in the water.
'Straight from tap'
Mr Ensor said: "The water is changed every time. Normally we don't think about it, we just pull the plug and it goes down the drain.
"This time, with the drought, we thought 'we can't do that because we've got a tank full of water'."
Mr Ensor has arranged for Rother District Council's grounds maintenance contractors to pump the water from the baptistry into a water bowser and take it to Egerton Park to be reused.
He said while the water "comes straight from the tap", he was sure the park's plants and flowers would "blossom even better".