Council backs early start on Bexhill-to-Hastings link road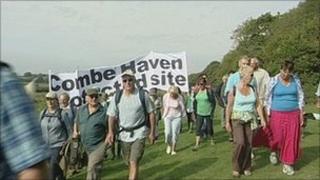 Work on the Bexhill-to-Hastings link road is to start before the scheme gets final government approval, East Sussex County Council said.
Archaeological surveys and work to create wildlife habitats will begin this summer, the cabinet agreed.
The council said the "risky" move would allow work during good environmental conditions and avoid delays and costs.
Last month, the government allocated £56m to the scheme. The road had been opposed by environmental campaigners.
'Jobs boost'
Council leader Peter Jones said: "The link road is absolutely crucial to the regeneration of Hastings and Bexhill."
He said the road would bring jobs, housing and business opportunities, along with fewer accidents on local roads and fewer cars using unsuitable roads.
"That's why, despite the fact we're still waiting to receive final funding approval from Department for Transport, we want to start work as soon as possible," he added.
Environmental campaigners had opposed the scheme which would cross Combe Haven Valley near a site of special scientific interest.
After the government earmarked funding, Friends of the Earth said the road was "not needed and not wanted" and would not solve economic problems.
Craig Bennett, OF Friends of the Earth, said: "This will be one of the most damaging road schemes in the South East of England and will do nothing to end our transport chaos."