Concern for missing 96-year-old Brighton pensioner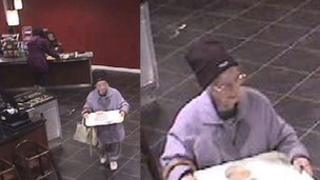 Police in Brighton are becoming increasingly concerned about the welfare of a 96-year-old woman who has not been seen for nearly a week.
Nellie Herriot, who has Alzheimers and lives on her own in Brighton, was last seen on a bus in the city on 24 April.
She was wearing a blue coat, a black hat, pale coloured trousers and shoes, and was carrying a beige bag.
CCTV images showing her wearing the same clothing three days earlier have been released by Sussex Police.
She is described as white, of thin build, 4ft 9in tall, and with short curly hair.
Police said it was not known whether she had any money with her, but her bus pass had been found in her flat.
'Vulnerable and confused'
The CCTV images were taken in the BHS shop in Churchill Square, Brighton, where she was known to be a frequent visitor.
Det Con Suzy MacLintock said she may have visited other cafes, and regularly used buses in Brighton and Hove, and had travelled by bus as far as Eastbourne and Worthing in the past.
"Nellie is very vulnerable due to her age and the fact that she also suffers from Alzheimers which can cause her to become confused," she said.
"Despite widespread inquiries, including distribution of posters in the city, there have been no further sightings of her.
"We are very anxious to hear from anyone who thinks they may know where she is.
"These two latest images do give a very good indication of her fragility."