Labour retain control of Hastings and gain seats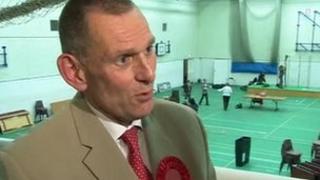 Labour have retained control of Hastings Borough Council and the Liberal Democrat group there have been completely wiped out.
The Conservatives had hoped to win control from Labour, but lost five seats including that of group leader Matthew Lock.
The Liberal Democrats lost their only seat in the borough to Labour.
Three Conservatives seats were lost in Crawley and one gained in Worthing, but the Tories held both borough councils.
Hastings council leader Jeremy Birch said the result was the "top end" of their expectations.
"We've got the biggest number of Labour councillors we've ever had in the town and both the leader and the deputy leader of the Conservatives have lost their seats," he said.
"People were pleased with the record of the Labour council here in difficult financial circumstances.
"And they have sent a message to central government that they are not happy with the policies of the two coalition parties."
Mr Birch said the result showed the Labour party could "rebuild" their position in the south of England.
The Conservatives now have nine seats compared to Labour's 23.
Conservative MP Amber Rudd, who represents Hastings and Rye, said it had been a "difficult night" for her party.
She said: "It's always difficult to make gains as Conservatives when you've got a Conservative government.
"This is a national swing and we're feeling that in Hastings - you can't buck a national trend."
In Crawley, the Conservatives retained control of the council, with 21 seats to Labour's 16, after an election where 13 seats were up for grabs.
Labour leader Brenda Smith said it was an excellent result for the party.
"I am absolutely thrilled," she said. "We have picked up three seats, we have held all our seats that we were defending and we have returned two councillors who lost their seats a few years ago.
"We have made significant inroads... we feel we are very well placed to continue in our project to return a Labour council to Crawley."
Henry Smith, Conservative MP for Crawley, said: "I'm disappointed that three good, hard-working councillors have lost their seats.
"But I think what we have seen here in Crawley is a reflection of the result more broadly across the country.
"I think people have been in the mood to want to send a message to the coalition government."
The Conservatives also retained control of Adur District Council with 25 seats, the same number as last time.
The Lib Dems lost one seat, leaving the party with one, while Labour gained their only seat on the council.
In Worthing, the Conservatives and Lib Dems gained one seat each, with other parties losing two of their councillors.
· All the latest election results are available at bbc.co.uk/vote2012