Murder accused was 'prepared to kill to stop paedophiles'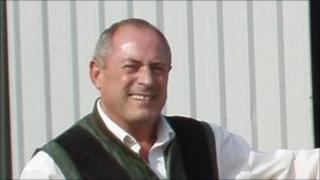 A man accused of murdering a supermarket worker he met for sex has told a court he was prepared to kill to stop people hurting others.
Christopher Hunnisett, 28, of Hastings, is accused of killing Peter Bick, who he believed was a paedophile, at his home in Bexhill, on 11 January 2011.
He said that he knew it was wrong but he had "done what was necessary" to stop Mr Bick from hurting children.
Lewes Crown Court was told there was no evidence Mr Bick, 57, was a paedophile.
Mr Hunnisett, of Chanctonbury Drive, admits manslaughter by diminished responsibility but denies murder.
The court was told that Mr Hunnisett went to Mr Bick's flat in Dorset Road South to get him to "admit to what he was".
Mr Bick died after being hit over the head with a hammer and strangled with a shoelace.
Giving evidence, Mr Hunnisett said: "It's always wrong to take a life and the fact that there has been loss of life is regrettable, and I did feel a little bit bad that he was dead.
"But him being dead, he cannot hurt anyone ever again, so no, and I do not feel guilty that he is dead either."
'Imminent danger'
Earlier, the jury was told Mr Hunnisett started making lists of people he suspected of being paedophiles after being acquitted of murder in September 2010.
He had already served nine years of a life sentence over the death of Reverend Ronald Glazebrook - whom he accused of abusing him - before he was freed on a retrial.
He said: "I am prepared to kill to stop them if I absolutely have to. Every single person is prepared to kill if they have to.
"It does not mean that that is what I wanted to do. It does not mean that that is what I set out to do."
He said that the rumour of Mr Bick being a paedophile came from a 16-year-old boy and he had heard something was going to happen between the boy and Mr Bick on 11 January 2011.
The trial continues.