Council to consider £14m loan for Brighton i360 tower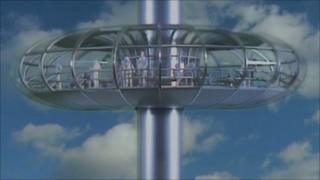 Developers seeking to build a 600ft (183m) viewing platform on Brighton seafront are hoping that a £14m loan from the city council will be approved.
Planning permission for the i360 tower has already been granted with the project expected to cost £35m.
Developers Marks Barfield have raised £18m and the Coast to Capital Local Enterprise Partnership has loaned £3m.
Brighton and Hove councillors will meet next week to decide whether to borrow the £14m shortfall and loan it to them.
The cabinet is expected to agree in principle to look into the option, with a final decision likely in July.
If agreed, the project could be re-started within two or three months and completed in two years.
'Unlock project'
The council said the developers would repay the loan from profits made on the attraction.
It expects the tower to attract up to 800,000 visitors a year, spending upwards of £5m in the city and encouraging up to 18,000 more people to stay overnight.
Councillor for culture, recreation and tourism, Geoffrey Bowden, said: "At this stage we're looking into the option.
"This would be a business and regeneration proposal by the council, not an act of charity.
"We are proposing this because the project is at such an advanced stage and the developers already have 50% of their funding in place.
"This project being at a standstill is costing the city at least £5m a year, blocking completion of the seafront regeneration and preventing lots of other spin-off business taking place nearby."
David Marks, of Marks Barfield, which developed the London Eye, said the backing from the city council, if agreed, along with the £3m loan from Coast to Capital, would "unlock" the project.
"We are not looking for a subsidy or a grant, and we will not put any burden on the taxpayer," he added.
"I firmly believe our investment in the i360 will be the trigger for a lot more investment in the city, just as the London Eye was for the South Bank."