Bomb disposal team explodes phosphorus shell on Sussex beach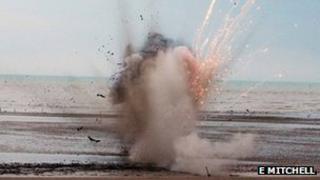 A shell containing phosphorus which was washed up on a Sussex beach has been blown-up by bomb disposal experts.
The controlled explosion on East Beach, in Littlehampton, had to be carried out on Monday after the shell started to leak liquid and let off smoke when a 13-year-old boy threw a stone at it.
A Royal Navy bomb disposal team was called-in and a 200m (650ft) cordon was put in place.
It is believed the shell was a marine marker.