Seaford next town to have its street lighting reduced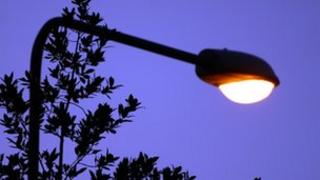 Another East Sussex town is set to have some of its street lights turned off overnight as the county council attempts to cut its electricity bills.
People living in Seaford are being consulted about how to implement the cutbacks in their area.
It follows similar action in other East Sussex towns, where some lights are now turned off after midnight and others are dimmed in the early hours.
The council wants to cut about £160,000 from its £1.4m annual lighting bill.
Details of the proposals for Seaford are being revealed at a presentation at Downs Leisure Centre next Saturday, when residents can ask questions and comment.
Reducing intensity
Information will also be available on the council's website from Saturday until 28 May, during which online comments will be invited.
The council intends to implement the proposals - which involve reducing the intensity of some lighting as well as the number of lights in some areas between midnight and 05:30 - but is listening to local concerns to decide how best to put them into practice.
A spokesman said: "The consultation is more about how we implement them than if, and getting people's views on the best way of doing it."
When the consultation in Uckfield closed in October 2011 the council had received 58 comments from visitors to the presentation, of which nearly two-thirds were in favour and only 3% against.
A total of 19 people also commented online.
After the Heathfield pilot the council said it had been well received and police had reported no increase in crime or anti-social behaviour.
A similar consultation has recently been held in Crowborough.
The council maintains more than 42,000 street lights and 6,000 illuminated signs across East Sussex.