Convoy welcomes Eastbourne's Diamond Jubilee lifeboat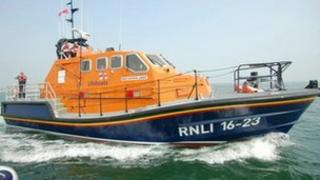 A convoy of lifeboats from East Sussex has met a new £2.7m vessel on its arrival at Eastbourne, where it is to be stationed.
The Tamar-class lifeboat has been named Diamond Jubilee in honour of the Queen, who is patron of the RNLI.
The vessel, which is still being used for the final stages of crew training, will go into operational service towards the end of June.
It will also take part in the Diamond Jubilee Thames Pageant on Sunday.
Crew training
The vessel will leave Eastbourne lifeboat station on Friday to make her way to London with local crew members, coxswain Mark Sawyer and mechanic Dan Guy on board.
Other crew will represent the different countries and islands of the British Isles where the RNLI is stationed.
Diamond Jubilee first took to the water on 6 February, on the 60th anniversary of the day the Queen ascended to the throne, and was handed over to the RNLI in Plymouth on 11 April.
Crew and mechanic training has been taking place at the RNLI College in Poole, Dorset, this month.