Arrests in Brighton as protesters clash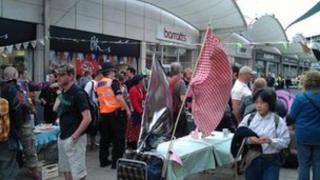 Eighteen people were arrested after hundreds of opposing protesters gathered in Brighton.
Police said about 100 nationalist sympathisers and 100 supporters of the anti-corporate greed group UK Uncut congregated in the city on Saturday.
Police said they had to stop a number of anti-fascist protesters marching near the nationalist-affiliated group.
"Minor confrontations between opposing factions" took place on the seafront, according to Sussex Police.
A group of about 30 "confrontational" nationalist supporters were also escorted to the railway station and told to leave.
Sussex Police force had warned of disruption in the city after nationalist-affiliated groups indicated their intention to meet up and socialise.
A separate street party-style gathering was held in Churchill Square by UK Uncut.
'Racist chanting'
Later in the afternoon officers had to stop anti-fascist protesters - including a number from the UK Uncut group, police said - marching into an area where the right-wing supporters had gathered.
A total of 18 people were arrested on suspicion of committing a variety of offences including chanting racist language, actual bodily harm, assaulting a police officer and possessing drugs.
Supt Steve Whitton said: "We took the decision to have a visible and reassuring presence in the city."
Mounted police have been on the streets as part of Sussex Police's strategy to cope with an "exceptionally busy" four days in the city.
Some police leave was cancelled and reinforcements drafted in from other forces.
Hundreds of community events are being held to mark the Queen's Diamond Jubilee weekend.
DJ Fatboy Slim, AKA Norman Cook, played two gigs at Brighton and Hove Albion FC's new Amex stadium on Friday and Saturday night.