Brighton protesters march over arms factory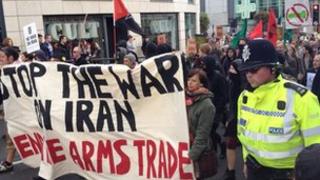 Protesters have marched through Brighton and Hove in demonstration over an arms factory based in the city.
Up to 70 people took part in the march in opposition to the arms company EDO MBM Technology, which has a building in Moulsecoomb.
Members of the SmashEDO group claimed the UK, USA and Israel would use the firm's weaponry if they attacked Iran.
Sussex Police said the march was peaceful. EDO MBM Technology has not been contactable for comment.