Sussex patient's song about Eastbourne Hospital hygiene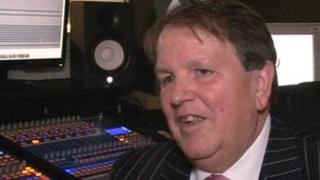 A hospital patient from Sussex who said he witnessed the same staff cleaning toilets and serving food has turned to the internet to vent his frustration.
Philip Davies has written a song about the practice at Eastbourne District General Hospital and put it on YouTube.
He said he raised the issue with hospital administrators but did not receive an answer.
The hospital said staff receive extensive training on food hygiene and infection control.
Mr Davies, a recording studio executive, said: "I think something as fundamental as people cleaning toilets and serving food in a place with a history of norovirus, should be not rocket science.
"This is a serious situation in a hospital - it's simply wrong."
In the song, titled Eastbourne Hospital, Mr Davies sings: "She [the hospital worker] was cleaning the ward toilets in the...way/She had served me with cold toast earlier that day."
'Extensive training'
A spokesman from East Sussex Healthcare NHS Trust said: "Housekeeping staff clean as well as serve drinks and food, but they all have extensive training regarding food hygiene and infection control procedures which is refreshed annually.
"They are all taught to ensure before and after food service, they wash their hands and use the gel provided before and after each cleaning task.
"The patients may not always see them do this but they are randomly monitored by the trust to ensure they do."
The Care Quality Commission said it does not encourage staff to serve food and clean, but there are no rules against it.