Former stuntman Eddie Kidd on Sussex honours list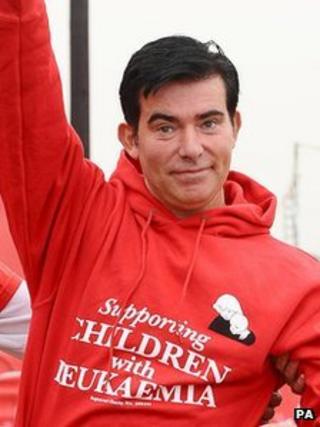 Former daredevil stuntman Eddie Kidd, who completed the London Marathon in 50 days last year, has been recognised in the Queen's Birthday Honours list.
Mr Kidd, from Peacehaven, East Sussex, who suffered serious brain injuries in a crash at a motorcycle rally in 1996, has become an OBE.
He has been recognised for his services to charitable giving.
The 52-year-old will be one of the Olympic torchbearers when it passes through Sussex next month.
He first stunned spectators in December 1979 when he jumped 80ft (24m) across a derelict railway bridge in Essex on a 400cc Yamaha.
His achievements culminated in 1993 when he jumped the Great Wall of China.
Three years later he suffered spinal and neurological injuries in the crash in Warwickshire.
That ended his career and left him partially paralysed, with severely restricted co-ordination and speech.
However, he has refused to let his disability get him down, walking up to a mile a day in last year's London Marathon to raise more than £75,000 for Children with Leukaemia and the Eddie Kidd Foundation, which supports the treatment and rehabilitation of stunt performers and professional extreme sportsmen.
'Absolutely amazed'
Other people from Sussex to be honoured in the Queen's Birthday Honours include Trevor Weeks, founder of the East Sussex Wildlife Rescue and Ambulance Service (WRAS).
He becomes an MBE for services to animal welfare.
Mr Weeks, who is in his 27th year of rescuing and caring for animals, and founded WRAS in 1996, said he was "absolutely amazed" at the honour.
"There are so many worthwhile people out there doing such fantastic work with animals and people," he said.
"This reward isn't just for me. It's for everybody associated with WRAS who has helped me to achieve."
Lisa Rodrigues, chief executive of the Sussex Partnership NHS Foundation Trust, has also been recognised in the honours, becoming a CBE for services to the NHS.
She said: "Throughout my working life I have chosen jobs which have put me in touch with people who face adversity and challenge.
"I pay tribute to every patient, every carer and every member of staff. My award honours all of them."