Public consultation on Brighton's 20mph city-wide road plan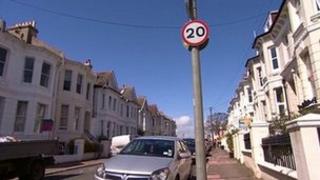 Plans to introduce 20mph speed limits in most residential and shopping streets in Brighton and Hove have been put out to public consultation.
The council, which is led by the Green Party, wants a phased introduction of a new lower speed limit across the city over the next three years.
It said the proposal would create a safer environment, reduce air pollution and encourage sustainable transport.
It follows two pilot schemes around schools in Brighton and Portslade.
Most major roads and arterial routes such as the A259 seafront road and the Old Shoreham Road are not included in the proposals and will continue to have 30mph limits.
The council is sending 10,000 questionnaires to homes and businesses across the city, selected at random, to invite people to give their views.
In addition, anyone interested can complete the questionnaire on the council's website , or obtain a copy from Brighton Town Hall or Hove Town Hall, where exhibitions will also be held next month.
The closing date of the consultation is 10 August, with the results to be considered by the council's transport committee later this year.
If approved, the administration plans to spend about £1.5m on the scheme, which would take about four years to fully implement.