Olympic athlete Sally Gunnell joins Broadbridge Heath leisure centre protest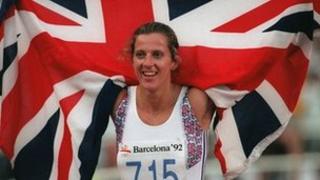 Olympic gold medallist Sally Gunnell has joined about 200 people to protest against plans to demolish a West Sussex leisure centre and athletics track.
Horsham District Council approved a £7.3m replacement for the Broadbridge Heath Leisure Centre, which is in need of repairs, on Wednesday night.
Local residents carrying posters and banners gathered outside the council chamber in Horsham to hear the outcome.
Ms Gunnell said the town should not be left without a running track.
"The track at Broadbridge Heath was very much part of my life when I was training and it still is now.
"We haven't got enough tracks in the whole of the country. So many of them are getting run down and are not being used.
"I feel very passionate that we're trying to inspire people, we're trying to have the whole legacy of the Games and we're not able to do that without an athletics club and a track," Ms Gunnell said.
'Track site sought'
Other residents campaigning outside the meeting of the full council claimed the existing leisure centre was irreplaceable and the new facility would be inadequate.
The council has said the replacement facility, on a site south of the current centre, would be more economical to run and more cost effective.
It is subject to the sale of the existing leisure centre land, but the plans include a combined leisure and indoor bowls building, along with a commitment to provide an outdoor athletics track once a site can be found.
Councillor Jonathan Chowen, cabinet member for arts, heritage and leisure, said final plans on what the new site would look like had yet to be completed.
"What we've said so far is this is the minimum you're going to get... it's going to give us something brand new fit for the 21st Century."
He added that providing an athletics track was the council's biggest priority.
"We haven't actually got a site where it's going to go, that's going to be the next question."