Flood-hit Littlehampton stages Armed Forces Day celebration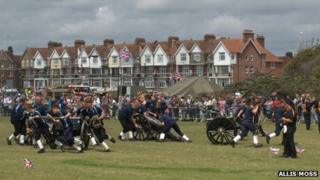 Cadets have joined veterans in Littlehampton to commemorate Armed Forces Day after the community pulled together to clear up following floods.
Events organised by Littlehampton Town Council and Harbour Fun Park included a parade and service and an aircraft aerobatic display over the sea.
West Sussex councillor Dr James Walsh said the community had overcome flood challenges to stage the events.
He said people had pulled together to get on with life as normal.
The town council said many local uniformed groups had taken part in the parade, and highlights included displays by the Portsmouth Action Field Gun Run Club.
'Challenged by floods'
A former staff sergeant with the Royal Electrical and Mechanical Engineers, 91-year-old Peter Richmond, said Armed Forces Day had a different atmosphere to remembrance events.
He said: "Whereas Armistice Day is solemn, Armed Forces Day is something different, where you can swagger around for five minutes then go back into obscurity."
The celebrations came weeks after areas of West Sussex were hit by flooding after heavy rainfall.
In Littlehampton, homes were evacuated and the town saw floodwater that was 4ft (1.2m) deep. A rest centre was set up at the town's leisure centre.
Dr Walsh said: "Littlehampton has a great survivability. It's been challenged by the sea, it's been challenged by the river, it's been challenged by floods over centuries.
"These things are unpleasant when they happen and there are still things that have to be done, but the whole community pulls together, gets us out of the mess very quickly and gets on with life as normal, and today illustrates it."