Newhaven incinerator opening boycotted by Norman Baker MP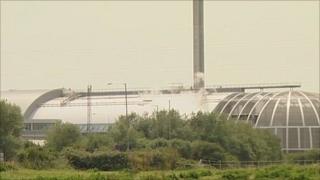 A waste incinerator in Sussex has been officially opened amid continued opposition from some residents and the local MP.
The Newhaven incinerator burns non-recyclable waste from East Sussex to produce electricity.
Liberal Democrat MP Norman Baker, who represents the area, boycotted the opening, describing the incinerator as a "gigantic intrusion".
However, operators Veolia, said the incinerator is needed in the area.
'Poisonous event'
Opponents have claimed the incinerator could be dangerous, damages the landscape and increases traffic in the area.
Mr Baker said: "I have absolutely no wish to attend this poisonous event.
"[The incinerator] has damaged the landscape and sent out a message that Newhaven is simply a convenient dumping ground for the rest of the county.
"There is nothing to celebrate."
However, Allan Key, general manager at Veolia Environmental Services, said: "We need to have these types of facilities to deal with waste.
"If we didn't have them material would still be going to landfill and we're here to operate this plant officially and make sure we're not creating any nuisance for our neighbours."
The incinerator will generate electricity through burning an estimated 210,000 tonnes of waste a year.
It has been backed by East Sussex County Council.