Olympic boat Collective Spirit goes on show in Hastings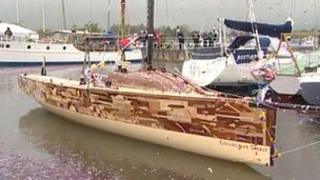 A 30ft yacht made of hundreds of pieces of wood collected from across the South East has gone on show in Sussex.
The vessel, named Collective Spirit, is in Hastings for the weekend and is one of 12 artistic commissions across the UK to celebrate the London Olympics,
Its mast was donated by Hastings fishermen and it also includes a section of Brighton's West Pier.
The boat was brought ashore on Saturday at the Stade where the town's fishing fleet is based.
Councillor Peter Chowney, from Hastings Borough Council, said: "Here in Hastings and St Leonards, we really took the idea to heart and donated most of the wood that's gone into building the yacht."
Mr Chowney donated a walking stick which belonged to his grandmother to the project.
Other donations included part of Jimi Hendrix's guitar; a plank from the London 2012 velodrome; several hockey sticks; a Victorian police truncheon; and a hairbrush used by a make-up artist at Pinewood Studios in the 1960s.
The yacht is sailing along the south coast of England in the run-up to the Olympics and will arrive at the sailing venue in Weymouth and Portland, Dorset, in time for the Games in August.