Mongol Rally gets under way from Goodwood Motor Circuit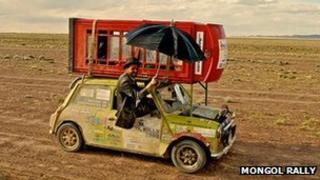 Hundreds of "amateur adventurers" are setting off from West Sussex in "tiny, unsuitable cars" on a 10,000 mile charity drive to Mongolia.
The annual Mongol Rally, which was founded in 2004, is being launched from the Goodwood Motor Circuit.
More than 270 teams have signed up, with another launch being held in the Czech Republic on Monday.
Drivers will then either head north via the Arctic Circle or travel through Kazakhstan or Iran and Turkmenistan.
'No set route'
Teams are expected to take between three and six weeks to complete the rally.
The rules are that each vehicle must have no more than 1.2 litres of "raw engine power under the bonnet", each team must raise at least £1,000 for charity, and that there is no set route, no professional drivers and no back-up or support of any kind.
The official charity of the Mongol Rally 2012 is Lotus Children's Centre in Ulaanbaatar, Mongolia, with the total amount expected to be raised by the teams set to be more than £300,000.
Among those taking part are three paraplegics, who have named their team The Wheelie Wanderers, two couples on their honeymoon, two teams of entire families, and four all-female teams.
Teams from Columbia, Brazil, India and Taiwan are also competing.