Renewable-energy power station planned for Shoreham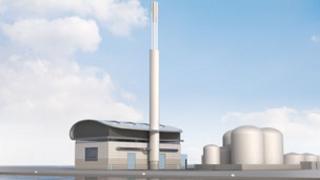 A power station which burns vegetable oil and animal fat may be built in Shoreham, West Sussex.
A company specialising in the renewable energy business has submitted plans for a £20m facility to be built alongside an existing power plant.
Edgeley Green Power says the new power station should generate enough electricity to run 18,000 homes and could be operating by 2014.
Adur Council leader Neil Parkin has welcomed a revised application.
He said the company had agreed to amend its proposals to use only "environmentally friendly" fuels approved by the Environment Agency and policed by the Port Authority.
Edgeley also says if approved, the development would create more than 70 temporary jobs during construction and another 20 permanent ones at the plant.
It will be close to the current Shoreham Power Station at the Fishersgate Terminal in Shoreham Harbour.
Independently audited
Mike Reynolds, the company's chief executive, said: "Shoreham port is still the ideal location for us because we can bring all our fuel in by sea directly to site, meaning we can take full advantage of the port's facilities and not impact on road traffic."
Edgeley says it will use vegetable and plant oils, together with animal fats that are not fit for human consumption, all of which are independently audited and meet the government's sustainability criteria.
The firm has amended its plans after a public consultation, altering the size, colour and equipment to be used in the plant on the one-acre (0.4 hectare) site.
It says the proposed power station should help the UK hit its renewable-energy target of 15% of total UK energy consumption by 2020.
Councillor Parkin said the proposals should be determined by the planning committee within 13 weeks, and he added: "They have changed it to take into account local concerns, and it could create some jobs locally, so yes, it is looking good."