Steve Ovett's running track in Brighton to be renewed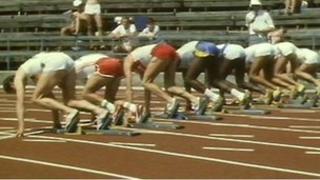 A sports stadium in Brighton, where former Olympic champions have trained, has secured £150,000 in National Lottery funding to replace the track.
Gold medallists Daley Thompson, Steve Ovett and Sally Gunnell have all trained and competed on the running track at Withdean Sports Complex.
Paul Collicut, chairman of Phoenix Athletics Club based at Withdean, said it was "the best possible news".
It was news the clubs using Withdean had been "crying out for", he added.
Brighton-born Steve Ovett, who won gold in the 800m at the 1980 Moscow Olympics, had a statue unveiled in his honour and was made a freeman of the City of Brighton on Wednesday.
Councillor Geoffrey Bowden said: "The timing of this announcement in the week that the we are making Olympic legend Steve Ovett a freeman of the City of Brighton & Hove could not be more timely.
"The old Withdean track played a significant part in his career, as well as that of Olympic gold medallists Sally Gunnell and Daley Thompson.
"With funding now in place for a new state of the art track, budding athletes from Brighton & Hove and beyond will, once again, have a training facility where hard work can be rewarded and dreams can be accomplished."