Charity abseil fundraiser Gertrude Painter 'amazing lady'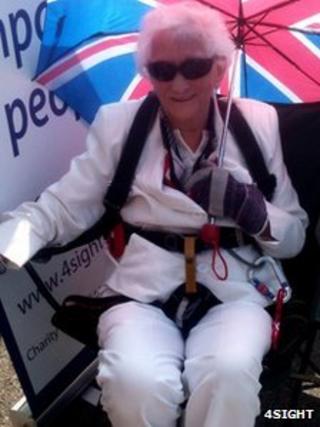 A 96-year-old woman who died moments before taking part in her 10th abseil for charity was doing what she loved best, her family has said.
Gertrude Painter was ready to descend 70ft (21m) from the roof of Crawley Hospital in West Sussex on Saturday when she had a suspected heart attack.
Ms Painter, known as Gertie, was pronounced dead at the scene and the rest of the abseil was called off.
The event was in aid of 4Sight, West Sussex Association for the Blind.
Her family said in a statement: "Gertie was an amazing lady.
"She was spirited, full of character and was much loved by her family and friends.
"She passed away doing what she loved best - raising money for charities that supported children with cancer and people with visual impairment.
"This was going to be Gertie's 10th abseil and, although she would have been disappointed not to complete it, she would have wanted everyone to be inspired by her efforts, and to continue to give generously to such worthy causes."
Details of Ms Painter's death will be passed to the West Sussex coroner.
Participants in the event had to be aged 14 or over but there was no upper age limit.
A statement from 4Sight said: "We are extremely saddened by this tragic event and our thoughts are with her family at this time."