West Sussex flooding report 'ready by November'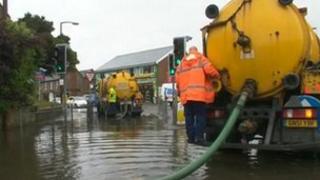 Residents affected by severe flooding in West Sussex have been told an inquiry will have answers by November.
More than 400 homes were damaged, roads were impassable and people had to be rescued from two holiday parks after days of torrential rain in June.
The inquiry is looking into drainage systems and improving maintenance.
The county council said questions being asked included whether sluice gates in the Chichester and Manhood areas were still set for drought conditions.
"We have a whole list of these," said council leader Louise Goldsmith.
"Our emergency team met the other week and we are working through them systematically."
West Sussex County Council is working with Arun and Chichester district councils, the Environment Agency and Southern Water to compile a full list of locations where flooding took place.
Bracklesham Bay, Elmer, Felpham and Bognor Regis were among the worst affected.
'Completely unique'
Suggestions from residents at the time that sea defences trapped flood water, which only dropped when an emergency channel was dug, were denied by Environment Secretary Caroline Spelman.
"It was a completely a unique situation," said Ms Goldsmith.
"We had had all that rain through April, May and then in June and that particular Monday we had constant heavy rain and there was nowhere for it to go.
"The ground was saturated and ditches were saturated."
Ms Goldsmith said that so far only a few bids had been received for cash from a community flood fund set up to help with clearing ditches on privately-owned land.
The inquiry is looking into drainage systems, including whether ditches and gullies were blocked, and how to improve maintenance.
A report will be published in November, with a series of workshops to present its findings to the worst-affected communities.
"We are going to be very, very thorough because we know that our residents have had a very bad time with this," she said.