Bats 'starving' after wet weather, Sussex Wildlife Trust says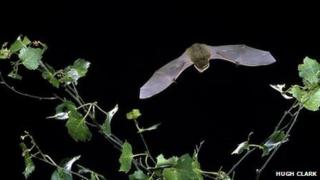 Conservationists in Sussex say they are concerned about the number of bats being found in distress after months of wet weather left many starving.
Sussex Wildlife Trust said bats had been unable to hunt for enough prey because insects do not fly in the rain.
Amanda Millar, chair of Sussex Bat Group, said she usually received 40 to 50 bats at her bat hospital in Hurstpierpoint each year.
This year, in July alone she has taken in 35 injured or starving bats.
Mrs Millar said bats entering hibernation for the winter without enough fat reserves might not survive, so the group wanted to do everything it could to help them.
Bats seen during the day hanging from a wall or lying on the ground were likely to be injured or exhausted through lack of food and should not be returned directly to the wild.
"It is important people don't try to pick up bats with bare hands but use a soft cloth or gloves to put them in a box before contacting us as soon as possible," said Mrs Millar.