Funeral and thanksgiving service for Piers Hopson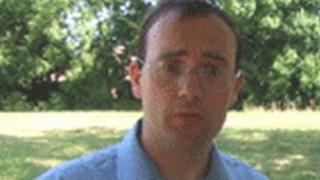 A funeral and thanksgiving service has been held for an East Sussex man whose body was identified in France two years after he went missing.
Piers Hopson, 35, disappeared in January 2010 from his St Leonards care home and his body was discovered by a French trawler eight months later.
It took until April for his remains to be formally identified despite a DNA profile being taken a year earlier.
The service was held at the Church of St John the Evangelist, in Crowborough.
Mr Hopson, who had Asperger syndrome, went missing after saying he was going for a walk.
The last sighting of him was in Rock-a-Nore Road on Hastings seafront.
The French boat found his body off the coast of Newhaven and a DNA profile was taken in April 2011 but not sent to the UK for another 12 months.
During that time, his parents still hoped that he would be found alive and intensive searches were carried out by police, his family and volunteer teams.
A £10,000 reward for information was also offered and a televised appeal was made.