Two deer killed by dogs in East Sussex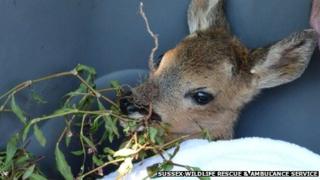 Two young deer have died after being attacked by dogs in East Sussex.
East Sussex Wildlife Rescue and Ambulance Service (WRAS) were called to Earls Down on Tuesday after a retriever caught a fallow deer fawn.
The deer died before rescuers arrived, the charity said.
Another fawn was found on Thursday still alive after being attacked by a another dog but had to be put down by vets in Heathfield.
The charity said it had called to three other similar incidents in the past month.
WRAS founder Trevor Weeks said: "Both deer had the worst injuries I have ever seen."
He urged dog owners to be careful during the summer months as young deer will often be left hidden in bracken and long grass.
"This year has been a bad year for baby deer, we have had nine babies and all of them have been fatalities," Mr Weeks said.
"Words can't describe how sickening these incidents have been."