Eastbourne airshow fundraising spectator plea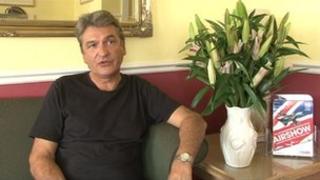 Spectators have been urged to donate money to help support the Eastbourne International Airshow, which is celebrating its 20th year.
Up to 500,000 people attend the event, which claims to be the world's biggest free seafront airshow in the world.
Marco Giorgi, of Eastbourne Hospitality Association, wants people to donate £1 to help fund the show which has previously struggled financially.
In 2010 the overall cost of the event was estimated to be £200,000.
A £5 entry fee was scrapped in 2009 after the airshow attracted only 48,000 paying customers in 2008.
Mr Giorgi runs a bucket collection to raise funds for the show and a nominated charity connected with the event.
He said: "The lack of a sponsor has made it difficult for the council to produce this wonderful airshow.
"There are 100,000 residents in this town and if each person put £1 in the tin there wouldn't be a problem.
"Add to that the swelled population in the town during the show, during August, and you could do very well. You could be looking at £150,000 if everybody put a pound in."
The four-day airshow starts on 9 August.