Airbourne Eastbourne to show Olympic Games closing ceremony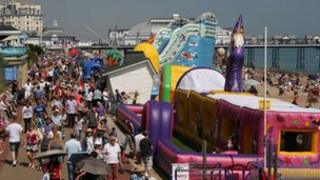 Thousands of people are expected to watch the closing ceremony of the London Olympics as part of celebrations for the end of a south coast airshow.
Hundreds of thousands of people have watched flying displays at Airbourne Eastbourne from the seafront and Beachy Head and flocked to events in the town.
Sunday's events include arena shows and flying from 13:05 BST to 17:35 BST.
They will be followed by live music in Princes Park, with the Olympics closing ceremony shown on a big screen.
Friday and Saturday saw huge crowds in Eastbourne, with the beaches packed with spectators.
Eastbourne District Council said traffic on Saturday was exceptionally busy, with car parks in the town centre full by 14:00 BST.
"We don't actually have visitor estimates for the show as it's free and covers such a wide area across Eastbourne and Beachy Head, so we can't really pinpoint an accurate figure," said a spokesman.
One of the highlights of the show was Saturday's flight by the world's last flying Vulcan - the first time the aircraft had flown at the Eastbourne show, which is now in its 20th year.
"The aircraft is much loved by the British public - partly because it is purely British built," said pilot Capt Kevin Rumens.
"It has got a real history about it and also the slightly strange shape of the big delta wing.
"When you see it flying it looks like no other aircraft."
Eastbourne's RNLI lifeboats were called out to three rescues after taking part in a demonstration with an RAF search and rescue Sea King helicopter on Saturday.
Four people in a dinghy were reported to be in distress off the Redoubt Fortress, a crew of a 38ft motor cruiser were towed to safety in Sovereign Harbour and a sail training yacht with six people on board suffered engine failure.
All of the displays planned for Thursday's opening had to be cancelled because of low cloud.