Brighton rocker Bob Ward 'sickened' by attack on son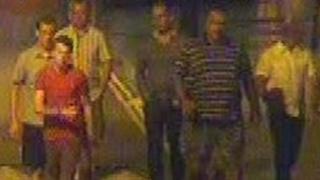 A rock musician whose son's jaw was broken after he was attacked when he went to help a busker has said he is "sickened" by the assault.
Music student Miles Ward, 23, had gone to help a busker whose collecting tin was kicked over in Brighton when the attackers turned on him.
His jaw was broken in two places and he needed surgery to insert metal plates.
His father Bob, who fronts Rolling Stones tribute act The Railing Stains, has offered a reward for information.
"I am sickened by this assault on my son," he said.
"But it also bothers me that someone who could attack at random like this could well do it again and the consequences could be worse.
"I love Brighton and it angers me that there's someone out there who taints our city with violence of this kind."
Miles, a pianist and singer, was attacked outside the seafront Thistle Hotel on 28 July.
He was talking to the busker at about 23:00 BST when a group of five or six men kicked over his tin of change. As Miles helped to pick it up, one of the men punched him.
Sussex Police said Miles was still in a great deal of pain and was unable to work or attend college.
"It is going to be at least six months before Miles is able to function normally," said Det Con Caroline Ingold.
Police have issued CCTV images of the group of men they want to speak to in connection with the attack.