Man rescued after 3am boat trip from Eastbourne beach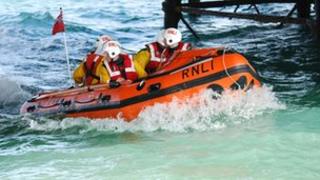 A man has been rescued off a Sussex beach by a lifeboat crew after setting off in a boat at 03:00 BST.
The Eastbourne lifeboat was called at 06:00 after coastguards received a call from a man in difficulty.
The RNLI said the man had set out in an inflatable kayak to row to the wreck marking ship, Galatea, which was anchored off the pier.
He became exhausted after rowing against the tide and had called coastguards from his mobile phone.