Brighton beach rape 'shocking' say police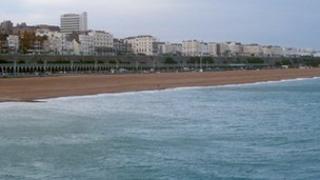 A woman in her mid-40s was raped on Brighton beach early on Friday morning, Sussex Police have said.
They said she met three men near the Sea Life Centre and was invited for a drink with one, who forced himself on her on the beach, south of East Street.
The man, in his mid-20s to early-30s, walked off, shortly after 02:00 BST, leaving the woman crying and in shock.
Det Con Aran Boyt said the victim's evening turned from an enjoyable night out into a "shocking attack".
"We need to identify this man and the others who were in his company when they first met up with the woman earlier," she said.
"Have you seen them locally or did they travel in and out of the city on Thursday night or Friday morning?"
The rapist is described as white, 5ft 7in (1.7m) with a bald head, dark eyebrows and stubble, possibly a goatee beard.
Police said he wore two-tone, faded jeans and a dark top, and spoke with an eastern European, possibly Albanian or Polish, accent. They said the other men were of a similar ethnic origin.