Seaford kittiwake colony grows as UK population falls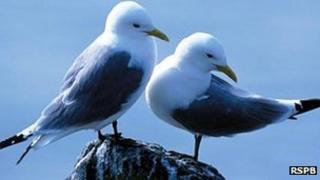 Cliff-nesting gulls that have declined across the UK in recent decades have established a thriving colony in East Sussex.
Numbers of kittiwakes have more than halved since the mid-1900s across the UK, the RSPB said.
But a kittiwake colony at Splash Point, Seaford, has bucked the trend, by adding another 300 pairs to its numbers, according to the bird charity.
Marine environment changes had led to a decline across the UK, the RSPB said.
In July the charity ran a Date with Nature project at Splash Point where visitors were able to view the kittiwakes as they raised their young.
Sea warming effect
Project officer Kate Whitton said: "Sussex's kittiwake colony seems to be doing well, which is welcome news, especially as another local colony at Newhaven, which has been steadily decreasing over the last few years, had no nesting kittiwakes at all this year."
The Splash Point colony is made up of about 1,100 pairs this year - up from 800 pairs in 2011. Chicks started hatching at the beginning of June.
RSPB conservation officer Dave Burges said it seemed beyond doubt that kittiwake decline was being driven by a slump in sandeel fish, which were a staple food for kittiwakes and other seabirds.
He said it was almost certain the decline of sandeels was linked to the warming of the sea and changes in the availability of plankton.